Dr. Allen Gives Keynote on Work-Life Harmony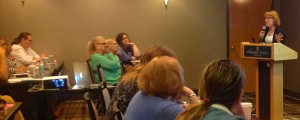 On June 5th, 2015, Chris was honored to give the keynote presentation at the 15th Annual Conference of the NY State Association of Resident Service Coordinators (NYSARC) on why harmony beats balance when considering work-life issues.  Resident service coordinators work tirelessly to help the residents at their facilities all over the state of NY; despite great passion and commitment for their work, resident service coordinators have stressful jobs and are vulnerable to burnout.  Chris talked about how cultivating work-life harmony among one's life pursuits is much better than striving for balance.    She helped the participants identify key personality traits, values, and life developmental stages in order to help them choose among myriad priorities in their lives and to begin to design their lives in ways that uniquely suit them.  We are often told that "one size doesn't fit all" in terms of developing priorities, but no one really helps us map out a personal plan based upon our unique personality traits and values.
Although Chris was unable to take participants all the way through the process of designing a work-life harmony plan, as she would in a coaching engagement or even a workshop,  the topic generated a great deal of interest, energy and enthusiasm.  The President of NYSARSC, Marcia Jones said, "Christine Allen was a highlight of our conference. Her information was relevent and dynamically presented and we look forward to her participation in upcoming conferences."  It was a rich, fulfilling day, as we all strive for greater harmony at work, home, and play!